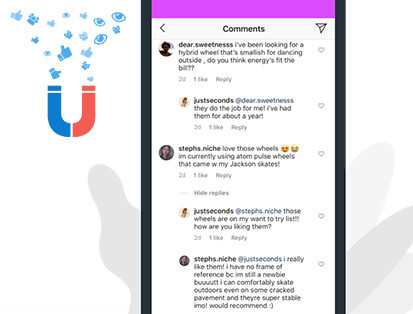 Instagram is one of the most important social media platforms, and it's important to try and get as much attention on your account as possible if you're trying to build a professional brand. Buying Instagram comments is one way to help your account get more attention and to start building your audience right away. Of course, you don't want to spend a fortune before your investment starts earning money for you. Fortunately, we offer packages that let you buy Instagram comments cheap and let you quickly get ahead of the curve.
When you buy Instagram random comments, you get an immediate engagement boost that tells Instagram to favor your post and show it to more of your followers.
This translates to fast growth and more organic, high-quality comments on your posts.
High-quality random replies can even start conversations and more quickly draw real people to your social media accounts. It's a great way to start your social media marketing without having to spend a lot of money on expensive campaigns.
Buying additional engagement is also a quick way to make your posts more approachable. People might not want to stand out by being the only person on your posts, especially on business and professional pages.
Having some other interactions there already can get the ball rolling and extend your reach. Remember, every organic comment and like is a chance to get your profile in front of more users. Every view is a chance to have another like and/or comment.
Our service can really help kick start your growth by taking advantage of the exponential growth that happens with regular engagement.
The process of SocialsUp is entirely safe, in part because you're getting real interactions from real accounts, not bots. Plus, commenting is one of the most valuable kinds of Instagram engagement. Comments work more than likes and views, because they show that people are more interested in your posts and photos. Instagram wants to keep people's interest, so they'll naturally boost the most effective content
We've already talked a little about how buying random comments can help improve traffic and boost your profile's performance. Let's look at the details.
When you buy Instagram random comments, delivery is about an hour after you post. You'll start receiving one comment at a time, over a set interval, until you've received all ordered ones. During the active commenting period, you'll have new responses regularly.
You can use all of your comments in one Instagram post, or split the package into multiple posts equally. It's a very safe and effective way of getting increased engagement on your profile and improving your reach on the app.
It can be useful to schedule your posts so that you get a reasonable mix of random reactions on different posts and photos. Each post will attract a slightly different audience. That is why taking advantage of the system – to have more attention on several posts – can often be more effective for increasing your reach.
All our engagements are high-quality from real profiles. That means that you may even get likes from those profiles later. Since these interactions, for cheap prices, you'll get a real sense of the reaction your posts will get. These aren't custom comments, though they are designed to help draw attention to your profile. Even though our services are affordable, we know how important it is to provide a quality service that gets the right kind of attention.
IG comments starter pack: 3
Since the accounts commenting on your profile are real, you won't have to worry about scaring potential followers away. Instead, you'll attract new followers by looking like a high-engagement profile they want to follow, too.
🏆 What are the main advantages of buying Instagram Comments?
An easy way to look like a real account, not a bot
You will gain a lot of attention and boost your algorithm ranking
Random reactions can increase traffic to your brand's website or blog
Let's you focus on other details instead of marketing
After buying safe quality comments, you can drive engagement by posting important updates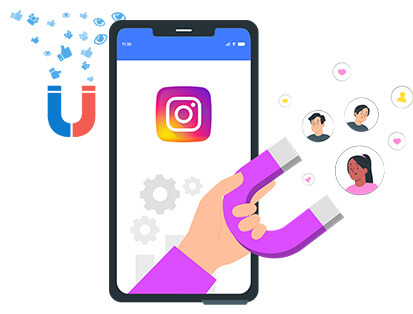 First, you don't have to sign up with our service to purchase random reactions. Since we ask for you to provide your username or profile URL, you're able to purchase social signals right away without a lengthy account creation process.
The easiest way to order Instagram random comments cheap is to select a package on this page. The second way is from our checkout window, where you can order services and choose the package you'd like to purchase
Once you've selected your services and the package you'd like, you'll be asked to provide your account details. Since our services are for old posts, you need to specify where you want to send the reactions package. Just make sure you've chosen posts that you want to get a little extra attention!
After providing your account information, we'll ask for your payment information. Our payment processing system is completely safe and secure. Payment will process immediately, and your quality comments should start about an hour later on your most recent post. That's the whole process