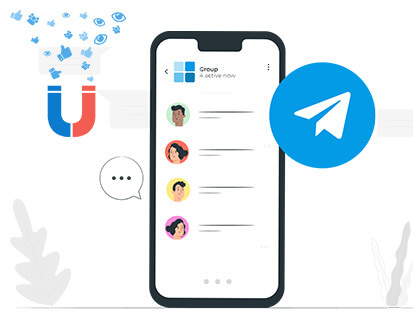 It is amazing how Telegram began to speed up the plan of promotion channels. This messenger is no longer just a means of communication, it has become a place where news is shared, goods are sold and services are offered. That is the main reason to consider the idea to buy Telegram members cheap.
Preconditions to the Necessity to Buy Telegram Members for Channel or Group
If you choose to promote your product through this popular messenger, you will need additional activity. You have noticed that the public who has many subscribers is trustworthy. And those with a small fan base look suspicious. In Telegram, as in social networks, it is important to involve the audience. Therefore, if you decide to create channels and sell a service or product, you better need to buy Telegram channel members from SocialsUp. It will save your time and money.
How Many to Buy Telegram Followers for Success Channel or Group Development?
If you decide to use paid service for the business you may meet with the dilemma of the amount of the sub. There is no definite answer. Any number will be appropriate. Any number of accounts added will positively influence the channel in general – this activity will certainly benefit any channel or group. If someone is skeptical about buying followers, they can start with 50 people. And we have a category of regular buyers who monthly take a package of services for 1000 members and more.
What Are the Accounts We Offer?
It is worth noting here an important thing. We do not provide bots. We have studied very carefully the issue of using fake accounts for the channel, and we understand that they are not useful. So these are the two main rules for providing activity from new people:
Realistic, silent users
Non-drop channel members
What Are the Key Steps to Buy Telegram Group Members
Browse the variety of the packages
Choose the package with the appropriate number of channel and group members
Proceed the payment
Get the confirmation list via email
Watch how your followers grow
Pay Solutions Provided by SocialsUp
SocialsUp accepts the following payment options:
Credit/debit cards: MasterCard, Visa, ApplePay, Google Pay. By the way, if you are interested, you can also buy Telegram members with crypto, such as Bitcoin, Ethereum, USD Coin, and Litecoin.
What You'll Get If You'll Buy Telegram Subscribers from Us
The channel or group works very well if it's time to maintain paid activity from such services. You can get an audience here and get them to keep watching your product.
We offer you a detailed overview of all the bonuses our customer receives:
Affordable prices for the best product. Our specialists regularly monitor the market and prices for products from our niche. This calls us to focus on the needs of our potential customers. SocialsUp tries to keep prices available without underestimating the quality of the product.
Real subscribers. Buy Telegram group members and ensure the service's top quality. Note that using fake accounts will only damage your channel. We do not provide bots, so when ordering from us you can be sure of the organic nature of the upcoming activity.
Fast delivery. Our company is careful to ensure that all orders for Telegram groups and channels are delivered and completed on time. Yes, there are cases when delivery may be a little delayed. Sometimes this is due to the desire to create an organic look of adding your real Telegram members.
Best customer support. Our professionals are always on call and can provide you with a competent quick answer. You can ask any question regarding the process when you make the order from us.
Safety and security. The security of our customers in providing data is an important condition of our work. We never share information with third parties. SocialsUp does not request passwords from personal accounts.
Buy Telegram Followers Cheap – Make a Choice of the Best Activity. The Benefits One Can Get with Real Members
Social media platforms' followers can become helpful tools for your business. The people who will be watching your group will start provoking other useful activities. For example, respond to your post's likes and comments. Whenever you first get into a group and there's a cool interaction, it feels like a solid channel.
It's easy to make money with more Telegram members. For example, by selling something through Telegram, you can get paid subscribers to eventually get potential buyers. Of course, only packages with SocialsUp are not enough. Here you need to pay attention to the content that you offer to users. It should be of the highest quality.
In general, any order from our service will positively affect your profit in the future (no matter whether it will be the purchase of real Telegram channel members or post views). Because it is about dynamics and development. Online presence is guaranteed for your community. Reach popularity without any effort.