No matter how strong of a following you have, you may want to buy YouTube views. This is a quick and easy way of increasing your view count and therefore attracting more organic traffic. At SocialsUp, we sell cheap YouTube views, so you can get that boost while staying within your marketing budget.
🔎 How do YouTube Views work? Why should you buy them?
In short, having more plays boosts your channel. The platform's algorithm evaluates multiple factors when determining which videos to recommend, but views are one of the most critical factors. In other words, the more views you have, the more likely your video is to be recommended, which then leads to even more views, the latter of which are all organic.
That organic growth in hits is your ultimate goal when gaining hits, whether you buy YouTube views or attract them organically. Remember that if more people watch your videos, that means more people are aware of your brand, whether you are a company, an individual influencer, or something else.
Additionally, if you get views, you will become more attractive to sponsors and partners. They will stand to benefit from your audience by expanding their reach, just by paying you or working with you.
This can translate into paid sponsorships or those in which you receive free items. It can also provide opportunities for collaboration with other YouTubers, where you each benefit from the others following.
Having more views even benefits your brand or business outside the platform. This is particularly true in terms of investments. You can use your high view count as evidence that your brand has a strong following and is worth the investment. You may even see a boost to your advertising revenue.
🏆 Is paying for YouTube Views worth it?
You can enjoy a long list of benefits, including:
Less time wasted generating views organically.
Higher ranking in the platform algorithm for suggested videos.
You choose the videos to gain authentic plays.
Once someone watches one of your videos, they are more likely to watch more.
Highly affordable and fits into your marketing budget.
🙋‍♀️ Who should buy viewers?
There is no single category of people who should buy views on their videos. This simple transaction can help anyone who has a channel and wants to increase their following. Whether your goal is to boost name recognition, ad revenue, or sales, you will benefit from it.
Anyone will benefit from the boost in recommendations or ranking resulting from more hits, thanks to the YouTube algorithm. As mentioned, this brings in more organic traffic, along with all the benefits associated with more organic views, including the potential for more subscribers.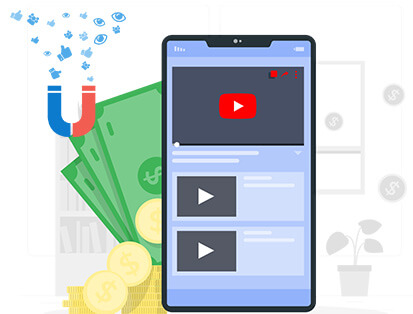 YouTubers and influencers who have their brand can use their higher view count as a way to attract sponsors or ad partners, earning money or free products in exchange for recommendations in their channel. They will also be better able to attract collaborations with other YouTubers if they have a higher view count, opening the door for new networking opportunities and partnerships.
Artists, musical or otherwise, who share their content on the platform, will dramatically benefit from the higher ranking, as it will introduce them to a broader audience, boosting their online presence. Additionally, up-and-coming artists can use a higher view count to attract producers, agents, or venues for performance.
Major international companies with a YouTube presence can use higher views to attract investors. This type of engagement indicates to investors that the company is doing well and is a worthwhile investment. Small businesses can have similar benefits.
Nearly anyone with a channel can benefit from paying for views in at least one of those ways.
Use one of our packages:
💰 How much do YouTube Views cost, and where can I buy them?
When you buy YouTube views, the price will vary depending on the number of views you purchase and where you buy them. On average, you can expect to pay around $4 to $5 for about 1,000 hits. Some companies will offer bulk discounts when you buy larger packages, but many merely multiply the cost, so 2,000 views would be $8 to $10.
The critical thing to remember is that the rates vary based on the company and the quality of the views. They are always sold in packages, so instead of buying just one view at a time, you purchase 100, 1,000, 5,000, or another number of them.
Luckily, you don't need to compare prices, as at SocialsUp, we offer the best and cheapest YouTube views. You can view our packages and buy the plays right on our website.
🚀 How to buy cheap, legitimate and high retention YouTube Views?
If you want to buy YouTube hits, you should always opt for legit ones. Depending on where you place the order, the platform would be able to tell the difference and penalize you. The best way to avoid this is to buy legit, real hits from a reputable site like SocialsUp, the best site for this kind of service.
When you are ready to get views, follow these simple steps:
Visit our SocialsUp website.
Choose the package you want, based on the number of views you need and price.
Enter the link to the video(s) you want to target.
Choose your payment method, including the option of a credit card.
Wait and start receiving the views in an instant.