SoundCloud is a popular platform for sharing one's music. Any artist who wishes to get their work heard by many people today has a profile. This means that the site is brimming with fresh tracks every day. Getting a sizeable fanbase to listen to and circulate the content is a real challenge for even high-quality music uploads. For those looking to boost their music distribution within minimal time, we suggest you to buy SoundCloud plays, which is one of the most viable options.
Why Interaction is Important for Your SC Tracks
SoundCloud's revenue-sharing model ensures that the more streams an artist has, the more they earn each month. In other words, consistently engaging with your listeners and promoting your playlist to increase your social media presence is critical to maintaining your business.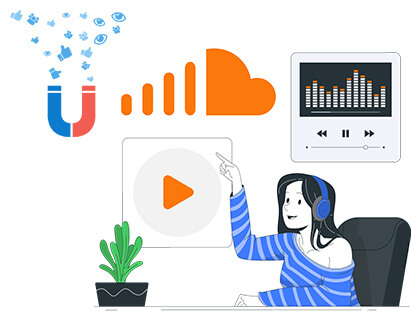 For this purpose, the platform counts a play for a music track every time the play button is clicked. These social signals are tracked in real-time and exclude self-actions. If listeners are logged in to their accounts, these plays get reflected live. If visitors to a track are not account-holders or logged into their profile, their statistics get updated in the next 24 hours.
The number of plays is used as an indicator of a song's exposure. They give a user's profile social credibility. As likes and shares, they boost a profile's fan base. A song or track with many interactions is likely to draw the listeners to the artist's other uploads. So, for a serious person, the entire music marketing strategy should ideally center around how to get their content enough social signals. The best option, in this case, is to buy SoundCloud plays.
What Does It Mean to Purchase SoundCloud Plays?
Every uploaded track starts with a listener count of zero. Engagements begin to build up over time with lots of networking and promotion. Since reputation and revenue are both based on the track statistics, it's tempting for a user to look for means to bring instant listens to their tracks. One legit and fast option for this is to buy SC plays.
When one buys plays on SoundCloud for a song, they are effectively paying a service to increase their play count multi-fold for that soundtrack using various strategies.
Some services also offer packages that include other actions like comments, reposts, and likes.
Many services offer options to buy real SoundCloud plays at affordable rates. However, buy SoundCloud plays cheap if the sellers have a natural delivery history.
Despite the claim, several market services generate interaction using low-quality computer programs (bots) to mimic real-human users. A real play is ideally generated by authentic visitors who may have arrived at the link using search tools or recommendations.
Although all purchases will augment the artificial increase in one's fan base, websites that sell real social signals make way for the organic growth of an artist's audience. They don't merely add fake social signals. They are generated by bots that do not have high-quality user profiles as they are solely programmed to provide intended services like leaving autogenerated messages and clicks. So, don't miss a chance to purchase SC plays to grow your audience and enhance your reputation but be wary of buying fake activity.
Can Buying Real Plays on SoundCloud Affect One's Career?
Yes, buying high-quality real Sound Cloud plays can give one's music career a much-needed boost. When a person is new to the music industry or yet to build up the brand image, buying SoundCloud plays can be a fast and effective music promotion.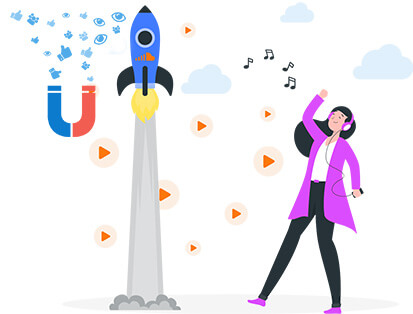 A good number of engagements on a track give the musician social credibility by marketing them as seasoned musicians with a strong follower base.
The high number of actions will make visitors curious about the music, and they, in turn, are likely to stop by and listen to the uploaded tracks. Here that the quality of the music remains the ultimate determiner of one's success as a musician.
Buying dripped social signals can provide a steady daily stream of plays onto a track and thus create a sustained promotion. This is likely to give the track greater visibility and listener engagement opportunities.
If the music is of high quality, new listeners are sure to like and repost the tracks across different social media networks. This will make the songs popular and gain more listeners. Good music is likely to go viral, especially when you use a proposal to buy SoundCloud plays.
However, if the site selling SC interaction is not trustworthy, one may end up with activity generated by low-quality fake bots. SoundCloud has a strict action policy against counterfeit activities on the platform. A fake play count can put one's music career in jeopardy as it can lead to profile suspension and banning.
The best way to augment your career is to purchase listens from a provider that offers services that complement organic marketing strategies. When you buy SoundCloud plays, you give yourself a starting push and bunch of attention.
Our starter package of SoundCloud plays is created for you: 100 and 300.
How to Ensure the Social Signals Bought are Authentic?
For the safeguarding of one's career and credibility, it is essential to check that listens bought for SC are legit. Real SC activity would be generated by a whole audience in location and time.  The following pointers help authenticate sellers of real activity:
Sellers use keywords like "organic" or "real" play in their packages.
Sellers of authentic social signals will not discourage using a PRO unlimited account that runs its listener tracking stringently. They guarantee safe methods of raising play counts.
Sellers of genuine interaction will likely request permission to share the music track or playlists on other social media like music blogs, music forums, email blasts, and promotional posts to encourage real audiences to visit, like, and repost the link further. In other words, they offer music promotion over diverse social networks to gain organic engagement.
Sellers would feature music artists on websites, forums, and promotional posts to give them broad exposure. They aim for a gradual increase in listeners through engagement with the song and offer high-quality marketing.
Such sellers also allow the buyers to keep track of the graph in the increase of play count.
Sellers offer dripped play plans.
What Are the Benefits of Buying Real SoundCloud Plays?
As already mentioned, buying real SC plays can be favorable to building one's music career using relatively inexpensive marketing strategies. Here are some of the significant benefits:
It is a fast means to catch the attention of listeners in an overcrowded online music world.
A gain in listeners can attract more potential fans and bring the playlist to recording agents' and companies' attention.
Organic engagement to improve the artiste's credibility. In other words, a good number of plays can build one's reputation and even make the track(s) go viral.
Compared to many other marketing options, buying real SC plays is cheap.
The new audience pulled in by the additional engagement, in turn, gives the songs a more prominent exposure when they further share or repost them. So, don't wait a miracle to happen, buy SoundCloud plays for better and faster results.
Is it Legal to Buy SoundCloud Activity?
The platform currently has no terms stating it is against their rules to buy SC plays. Several users hence buy interaction to give their fan base a kickstart.
However, SoundCloud does have a system in place to check for fake versus organic listeners. There have been several instances where users have found their accounts suspended owing to phony activity on their profiles. So, if the plays bought are real, there should not be an issue.